RS Stock No.:

164-3597

หมายเลขชิ้นส่วนของผู้ผลิต / Mfr. Part No.:

3203X103P

ผู้ผลิต / Manufacturer:
รูปภาพประกอบสินค้าเป็นเพียงรูปภาพใกล้เคียงเท่านั้น กรุณาอ่านรายละเอียดสินค้า
ดู Trimmer Potentiometers ทั้งหมด
---
2500 มีของพร้อมจัดส่งภายใน
(In
stock for delivery within) 4-6 วันทำการ
(working
days)
ราคา / Price Each (In a Bag of 500)
Units
Per unit
Per Bag*
500 - 500
THB55.148
THB27,574.00
1000 - 1500
THB53.934
THB26,967.00
2000 +
THB52.776
THB26,388.00
*ตัวบ่งบอกราคา / price indicative
RS Stock No.:

164-3597

หมายเลขชิ้นส่วนของผู้ผลิต / Mfr. Part No.:

3203X103P

ผู้ผลิต / Manufacturer:
Legislation and Compliance
COO (Country of Origin):

JP
---
รายละเอียดสินค้า / Product Details
150mW 3mm Square - 3203 Series
Tyco 3203 Series 150mW Top Adjust 3mm square SMD cermet trimmer potentiometers with a cross screwdriver slot. The manual adjust sister to the 3213 series, the 3203 series are a low profile trimmer potentiometer solution ideal for new generation hand held equipments where mixed technology and double sided component placement are unavoidable. The 3203 trimmer is sealed for IR, vapour phase and full immersion wave soldering together with the solvent board washing process.
Height above the board - 2mm
Cermet Technology
Suitable for dip and wave solder processes plus solvent washing
Delta Terminals Prevent Solder Bridging
Designed for Manual Adjust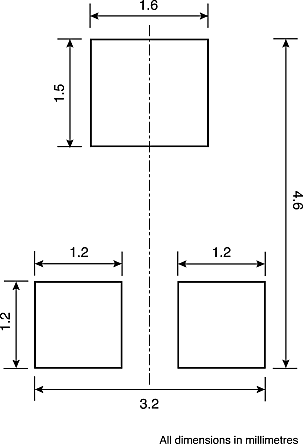 For products that are Customized and under Non-cancellable & Non-returnable, Sales & Conditions apply.
---
คุณสมบัติ / Specifications
| | |
| --- | --- |
| คุณสมบัติ | Value |
| Maximum Resistance | 10kΩ |
| Mounting Type | Surface Mount |
| Number of Turns | 1 |
| Orientation | Top Adjust |
| Power Rating | 0.05W |
| Series | 3203 |
| Termination Style | Tab |
| Tolerance | ±20% |
| Temperature Coefficient | ±100ppm/°C |
| Length | 3.4mm |
| Minimum Operating Temperature | -55°C |
| Maximum Operating Temperature | +150°C |
2500 มีของพร้อมจัดส่งภายใน
(In
stock for delivery within) 4-6 วันทำการ
(working
days)
ราคา / Price Each (In a Bag of 500)
Units
Per unit
Per Bag*
500 - 500
THB55.148
THB27,574.00
1000 - 1500
THB53.934
THB26,967.00
2000 +
THB52.776
THB26,388.00
*ตัวบ่งบอกราคา / price indicative