Phoenix Contact MKKDSN 1.5/3-5.08 Series PCB Terminal Block, 6-Contact, 5.08mm Pitch, Through Hole Mount, 2-Row, Screw

RS Stock No.:

390-9124

หมายเลขชิ้นส่วนของผู้ผลิต / Mfr. Part No.:

1726066

ผู้ผลิต / Manufacturer:
ดู PCB Terminal Blocks ทั้งหมด
---
460 มีของพร้อมจัดส่งภายใน
(In
stock for delivery within) 4-6 วันทำการ
(working
days)
ราคา / Price Each: (In a Pack of 5)
Units
Per unit
Per Pack*
5 - 245
THB185.484
THB927.42
250 - 1245
THB181.774
THB908.87
1250 +
THB178.138
THB890.69
*ตัวบ่งบอกราคา / price indicative
RS Stock No.:

390-9124

หมายเลขชิ้นส่วนของผู้ผลิต / Mfr. Part No.:

1726066

ผู้ผลิต / Manufacturer:
Legislation and Compliance
COO (Country of Origin):

DE
---
รายละเอียดสินค้า / Product Details
Phoenix Contact COMBICON MKKDSN 5.08mm Double Level PCB Terminal Blocks
The MKKDSN series from Phoenix Contact are double layer terminal blocks from the very popular COMBICON range. They're screw-connection terminal blocks and have a low-temperature rise thanks to their impressive maximum contact force. they also boast well-known connection principles that allow you to use these terminal blocks worldwide and in most applications while also having latching on the side that enables a number of positions to be combined. Not to mention, the MKKDSN series are designed to be wave soldered onto the PCB.

These PCB terminal blocks are rated for a nominal current of 17.5 A with a nominal voltage of 400 V. They boast Cu (Copper) alloy contact plates whilst being built in a green polyamide housing.
Features and benefits:
N-type print terminals with low overall hight
For wave soldering processes
How do PCB terminal blocks work?
PCB terminal blocks simply allow you to connect wire into a socket that then transmits the data to the PCB. They work having you plug in a wire of the correct AWG into the socket that is then usually locked down by either a screw or spring-cage for a strong connection. This connection is also connected to the output pins that have been soldered onto the PCB.
Approvals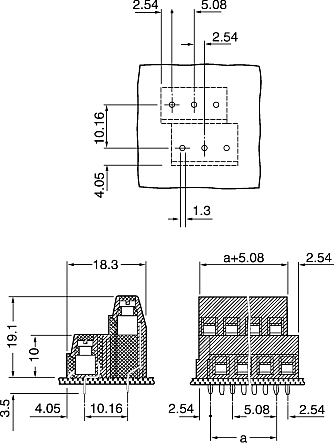 Approvals


Phoenix Contact COMBICON 5.08mm PCB Terminal Blocks


High quality PCB mount screw terminals available in vertical, 55° entry or double level mouldings. Standard, low profile and high current versions are all available on either 2 way or 3 way housings, side stackable up to 30 way. All standard and low profile versions accept conductors up to 1.5mm², while the high current versions take conductors up to 4mm². The range incorporates copper alloy clamping parts, offering continuously reliable screw connection, designed so that copper conductors can be clamped without pre-treatment. Marking labels are also available to aid terminal identification.


Robust rising clamp technology
Voltage Rating 250V
High copper content (>85%) provides outstanding corrosion resistance, low contact resistance and virtually eliminates thermal expansion
Large 3mm copper alloy screws
Approvals
UL (E60425); CSA (LR13631)
---
คุณสมบัติ / Specifications
| | |
| --- | --- |
| คุณสมบัติ | Value |
| Number of Contacts | 6 |
| Pitch | 5.08mm |
| Number of Rows | 2 |
| Mounting Type | Through Hole |
| Termination Method | Screw |
| Type | PCB Terminal Block |
| Current Rating | 13.5A |
| Body Orientation | Straight |
| Voltage Rating | 250 V |
| Series | MKKDSN 1.5/3-5.08 |
| Depth | 18.3mm |
| Width | 19.1mm |
| Length | 17.78mm |
460 มีของพร้อมจัดส่งภายใน
(In
stock for delivery within) 4-6 วันทำการ
(working
days)
ราคา / Price Each: (In a Pack of 5)
Units
Per unit
Per Pack*
5 - 245
THB185.484
THB927.42
250 - 1245
THB181.774
THB908.87
1250 +
THB178.138
THB890.69
*ตัวบ่งบอกราคา / price indicative