RS Stock No.:

240-9128

หมายเลขชิ้นส่วนของผู้ผลิต / Mfr. Part No.:

IR9027 AC400V 5.5kW

ผู้ผลิต / Manufacturer:
ดู Motor Starters ทั้งหมด
---
1 มีของพร้อมจัดส่งภายใน
(In
stock for delivery within) 4-6 วันทำการ
(working
days)
| | |
| --- | --- |
| Units | Per unit |
| 1 + | THB16,244.41 |
RS Stock No.:

240-9128

หมายเลขชิ้นส่วนของผู้ผลิต / Mfr. Part No.:

IR9027 AC400V 5.5kW

ผู้ผลิต / Manufacturer:
Legislation and Compliance
COO (Country of Origin):

DE
---
รายละเอียดสินค้า / Product Details
Soft Starter, IR9027
Soft starters are robust electronic control devices for starting three-phase asynchronous machines smoothly. Two of the three motor phases are influenced by the IR9027 by phase control in such a way that the current in these phases rises steadily. The motor torque behaves in exactly the same way during start-up. This guarantees that the drive can start up without jerking.
It is impossible for drive elements to be damaged, because the abrupt starting torque caused by direct starting is not generated.
A marked reduction of starting noise is also perceived. Slippage or tipping over of items being conveyed on belts is avoided.
After starting, the power electronics are bridged via an internal relay contact to minimise losses in the device.
Applications
Machines with gear, belt and chain drives
Conveyor belts, fans, pumps, compressors
Packaging machines, door operating mechanisms
Features
Increases the service life of asynchronous motors and mechanical drive components
Easy installation even in existing systems
No need for a neutral conductor
Starting time and starting torque can be adjusted separately. Can be combined with motor brake units.
An f/V converter is frequently not needed for simple applications
2-phase control of the motor
For motor ratings up to 5.5 kW
Power semiconductor bridged after successful start-up
LED display
Suitable for snapping onto a 35 mm standard top-hat rail
105 mm overall width
Warning
The IR9027 requires a clockwise rotating field and must not be operated with a capacitive load (e.g. reactive power compensation) at the output. In the decoupled state (without load), the starting behaviour is not particularly smooth.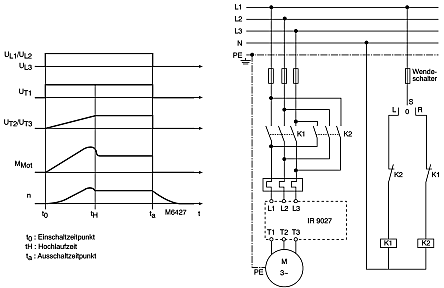 ---
คุณสมบัติ / Specifications
| คุณสมบัติ | Value |
| --- | --- |
| Power Rating | 5.5 kW |
| Motor Starter Type | Soft Start |
| Voltage Rating | 400 V |
| Phase | 2 |
| IP Rating | IP30 |
| Overall Length | 105mm |
| Overall Width | 90mm |
| Overall Depth | 59mm |