Amphenol Industrial, MS3106A 3 Way Cable Mount MIL Spec Circular Connector, Socket Contacts,Shell Size 10, Screw

RS Stock No.:

475-820

หมายเลขชิ้นส่วนของผู้ผลิต / Mfr. Part No.:

MS3106A-10SL-3S

ผู้ผลิต / Manufacturer:
รูปภาพประกอบสินค้าเป็นเพียงรูปภาพใกล้เคียงเท่านั้น กรุณาอ่านรายละเอียดสินค้า
ดูหมวดหมู่นี้
---
สินค้าหมดชั่วคราว
(Temporarily
out of stock) - จะเป็นแบ๊คออเดอร์จัดส่ง
(back
order for despatch) 02/10/2023, จัดส่งภายใน
(delivery
within) 4-6 วันทำการ
(working
days)
| | |
| --- | --- |
| Units | Per unit |
| 1 - 9 | THB819.03 |
| 10 - 24 | THB802.65 |
| 25 - 49 | THB786.59 |
| 50 - 249 | THB770.86 |
| 250 + | THB634.42 |
RS Stock No.:

475-820

หมายเลขชิ้นส่วนของผู้ผลิต / Mfr. Part No.:

MS3106A-10SL-3S

ผู้ผลิต / Manufacturer:
Legislation and Compliance
---
รายละเอียดสินค้า / Product Details
Amphenol MS MIL-C-5015 Circular Plug Connectors
Amphenol MS Series Class A MIL-spec connectors that meet the demanding performance requirements of MIL-C-5015. These cable mount circular plug connectors have proven electrical capability for equipment applications where durability is important. The Amphenol plugs have threaded couplings and single key/keyway shell polarization for an accurate and reliable connection. The solid shells of these MS Series circular MIL-C-5015 connectors are made from high grade aluminium alloy. The shells are electrically zinc plated with an olive drab chromate finish which ensures a high resistance to corrosion. The inserts of these military circular connectors are made from resilient synthetic rubber which offers a high dielectric strength and resistance to vibration.
Features & Benefits
Durable, field-proven design
Threaded couplings for quick and accurate mating
Keying and polarization to prevent mismating
Durable construction with high grade aluminium shell
Zinc plated olive drab chromate finish for high resistance to corrosion
Rubber inserts for high dielectric strength and resistance to vibration
Product Application Information
These Amphenol plug MS series class A Mil-Spec circular connectors are designed for to perform virtual functions in powering, testing and ground support systems. Applications include communication equipment, computers and shipboard installation where mechanical forces and physical parameters are not subject to extreme or rapid environmental changes. These MS series MIL spec circular cable mount plugs are for use with the MS Series 3100, 3101 and 3102 receptacles
Note
Order cable clamp with bushing separately
Cable-mounting plugs (pin contacts) will only mate with chassis sockets. Cable-mounting sockets will only mate with chassis plugs.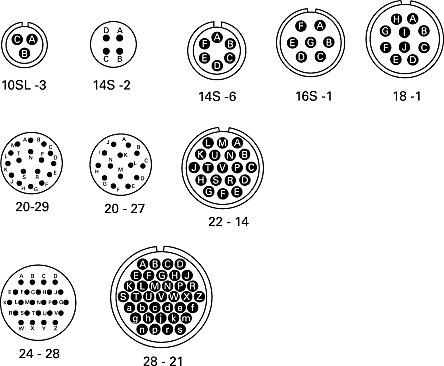 Standards




Commercial grade threaded circular multi-pole connectors designed to conform to the general requirements of MIL-C-5015 and satisfy the commercial and industrial demand for quality, reliability and low cost. The connectors are screw locking and fully interchangeable with other screw locking MIL-C-5015 types. All pins and sockets solder bucket type.
---
คุณสมบัติ / Specifications
| | |
| --- | --- |
| คุณสมบัติ | Value |
| Number of Contacts | 3 |
| Contact Gender | Female |
| Voltage Rating | 500 V ac, 700 V dc |
| Shell Size | 10 |
| Mounting Type | Cable Mount |
| Military Standard | MIL-DTL-5015 |
| Termination Method | Solder |
| Mating Type | Screw Coupling |
| Body Orientation | Straight |
| Series | MS3106A |
| Shell Plating | Zinc Cobalt |
| Maximum Operating Temperature | +125°C |
| Contact Plating | Silver |
| Contact Material | Copper Alloy |
| Minimum Operating Temperature | -55°C |
---
สินค้าหมดชั่วคราว
(Temporarily
out of stock) - จะเป็นแบ๊คออเดอร์จัดส่ง
(back
order for despatch) 02/10/2023, จัดส่งภายใน
(delivery
within) 4-6 วันทำการ
(working
days)
| | |
| --- | --- |
| Units | Per unit |
| 1 - 9 | THB819.03 |
| 10 - 24 | THB802.65 |
| 25 - 49 | THB786.59 |
| 50 - 249 | THB770.86 |
| 250 + | THB634.42 |