ข้อมูลทางเทคนิค / Technical Data Sheets
Legislation and Compliance
COO (Country of Origin): DE
รายละเอียดสินค้า / Product Details
HV Series Feedthrough Grommets
The HV series from HellermannTyton are feedthrough grommets which offer outstanding protection when wires and cables are fed through exit points or gaps. The HV series offer mechanical protection the feedthrough grommets insulate, protect from touch and dampen vibrations.
There are a range of different sizes available to suit your application. Please refer to the table and diagram below to find your grommet.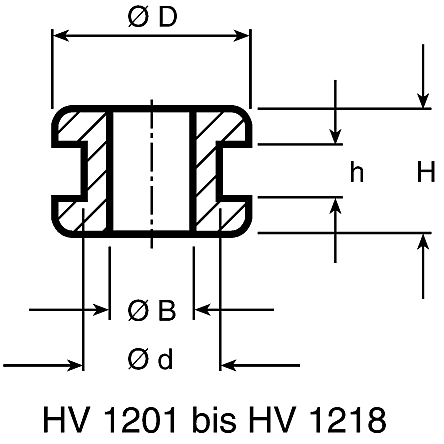 The HV1218 (633-02180) from HellermannTyton is a cable grommet for 10mm holes in panels up to 4mm. Grommets sit in electrical installations to provide protection against sharp edges and strain relief to the cables that feed through.
Often, when holes are cut into panels, they leave a sharp edge. The HV1218 grommet sits in this hole to provide a bumper around the edge. This bumper protects the wires that pass through.

Why choose PVC?
The HV1218 is made from black, flame-retardant PVC. PVC is a strong, durable material which I ideal for providing protection to the cables.
The PVC used for these cable grommets is flexible which makes it easy to apply to your electrical installation.

คุณสมบัติ / Specifications
| คุณสมบัติ | Value |
| --- | --- |
| Grommet Type | Round |
| Maximum Cable Diameter | 6mm |
| Panel Hole Diameter | 10mm |
| Material | PVC |
| Colour | Black |
| Minimum Operating Temperature | -30°C |
| Maximum Operating Temperature | +60°C |
| Series | HV |
| Maximum Panel Thickness | 4mm |