ข้อมูลทางเทคนิค / Technical Data Sheets
Legislation and Compliance
สถานะRoHS: ไม่สามารถใช้ได้
COO (Country of Origin): DE
รายละเอียดสินค้า / Product Details
RI 58-D series incremental hollow shaft encoders
Encoders with diameter of 58 mm, for direct mounting at end of motor arm.
Reduced housing depth for highly compact mounting.
Simplicity and safety of coupling to the shaft thanks to the use of a concentric clip.
High precision of output signals for use in the most demanding applications.
Use of Opto-Asic technology for greater reliability and protection against electrical and electromagnetic interference.
Integrated control circuitry with alarm output.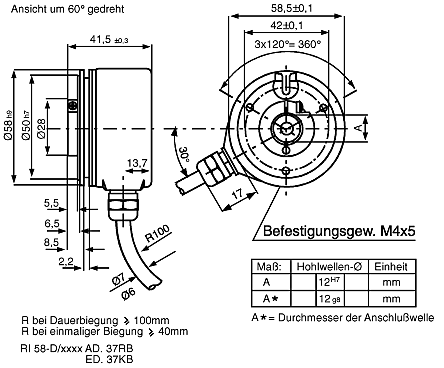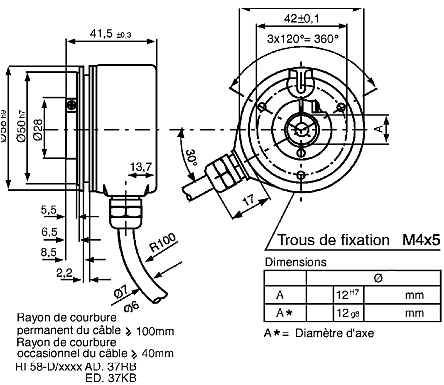 Hengstler
Radial cable termination
Alarm, A, B, N output
Encoders: OptoAsic technology for greater reliability
Pulse shape: Square wave, 1:1 duty cycle
คุณสมบัติ / Specifications
| คุณสมบัติ | Value |
| --- | --- |
| Pulses Per Revolution | 360 |
| Encoder Technology | Incremental |
| Maximum Revolutions | 6000rpm |
| Output Signal Type | Push Pull |
| Shaft Type | Hollow |
| Supply Voltage | 10 → 30 V dc |
| Shaft Diameter | 12mm |
| Steps Per Revolution | 360Steps |
| IP Rating | IP65 |
| Overall Height | 41.5mm |
| Minimum Operating Temperature | -10°C |
| Maximum Operating Temperature | +70°C |
| Series | RI58-D |
| Switching Frequency | 200 kHz |