Allen Bradley 10kΩ Rotary Potentiometer 1-Gang, 800FP-POT6
RS Stock No.:

536-5065

หมายเลขชิ้นส่วนของผู้ผลิต / Mfr. Part No.:

800FP-POT6

ผู้ผลิต / Manufacturer:

ดู Potentiometers ทั้งหมด
---
35 มีของพร้อมจัดส่งภายใน
(In
stock for delivery within) 4-6 วันทำการ
(working
days)
| | |
| --- | --- |
| Units | Per unit |
| 1 + | THB6,571.48 |
RS Stock No.:

536-5065

หมายเลขชิ้นส่วนของผู้ผลิต / Mfr. Part No.:

800FP-POT6

ผู้ผลิต / Manufacturer:
สถานะRoHS: ไม่สามารถใช้ได้
COO (Country of Origin):

CN
Legislation and Compliance
สถานะRoHS: ไม่สามารถใช้ได้
COO (Country of Origin):

CN
---
รายละเอียดสินค้า / Product Details
Single Turn Potentiometer
No soldering required – screw terminals
1 – 10 legend
10000Ω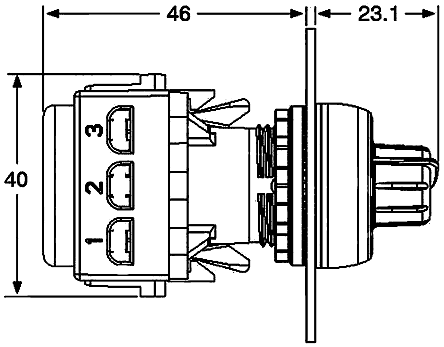 Optimise industrial risk management with this potentiometer from Rockwell Automation's Allen Bradley range. It regulates current flowing through a circuit and provides reliable electrical resistance to motor speed-controlled devices, such as safety doors. The one-gang potentiometer is conveniently supplied as a complete operator assembly and has a simple-to-adjust manual rotary knob. It offers highly precise resistance values and has industry-standard 22 mm hole fixing requirements, so it's quick and simple to install.
• Single-person panel installation for improved workplace productivity
• Screw terminals for a durable connection with no soldering needed
• State-of-the-art moulded design for optimal durability and efficiency
• IP66 (ingress protection) rating for complete protection against dust and water sprays in harsh environments
Standards and Certifications
• CE (Conformité Européene)
• UL (Underwriters' Laboratories)
• CSA (Canadian Standards Association)
• CCC (Chinese Standards)
How does a potentiometer work?
A potentiometer like this one is a type of voltage regulator that picks up an input voltage and transfers it to an electrical circuit. The amount of voltage transferred is determined by the position of the wiper on a resistive track, which is manually adjusted on this device using the rotary knob.


800F Series Pushbuttons & Indicators


The 800F range of Push Buttons is designed and manufactured to meet demanding performance specifications. Using state-of-the art solid modelling techniques, each component built into 800F Push Buttons is optimized for durability and safe performance.,Designed to conform with the industry standard 22mm hole fixing requirements, the 800F range covers the following products.


Illuminated/non-illuminated push-buttons and mushroom operators
Pilot lights LED operated
Selector, toggle, multi-function and key selector switches (2 and 3 positions)
Custom laser engraving for pushbutton caps and diffusers
Single turn potentiometer assembly
Emergency stop push-buttons including the unique self monitoring contact block
Low front of panel profile
Selection of silicone boots are available
Plastic enclosures
Up to six circuits per operator
Metal operators offer ruggedness and durability
IP66 protection class
Meets CE/UL/CSA standards and CCC (Chinese standard) compliant
Finished with corrosion-resistant anodized plating
Single person panel installation
Easy to install operators provide significant time and cost savings


• Illuminated/non-illuminated push-buttons and mushroom operators
• Pilot lights LED operated
• Selector, toggle, multi-function and key selector switches (2 and 3 positions)
• Custom laser engraving for pushbutton caps and diffusers
• Single turn potentiometer assembly
• Emergency stop push-buttons including the unique self-monitoring contact block
• Low front of panel profile
• Selection of silicone boots are available
• Plastic enclosures
• Metal operators offer ruggedness and durability
---
คุณสมบัติ / Specifications
| | |
| --- | --- |
| คุณสมบัติ | Value |
| Potentiometer Type | Rotary |
| Maximum Resistance | 10kΩ |
| Number of Gangs | 1 |
| Number of Turns | 1 |
| Shaft Length | 22.4mm |
| Shaft Diameter | 6.35 mm |