A Complete Guide to Disposable Gloves
Our disposable gloves guide explains how to choose the right size and explores the different types available.
What are Disposable Gloves?
Disposable gloves are single-use gloves designed to protect the wearer from a range of potentially hazardous items. However, while wearing disposable gloves will offer a certain level of protection, it's worth bearing in mind that you should still aim to avoid harmful substances where possible to ensure your safety.
There is a wide variety of disposable gloves available, each suitable for different applications. They are made from materials including latex, nitrile, and vinyl. Additional factors such as the level of comfort, protection, and durability will all have a bearing on the appropriate buying choice.
What are Disposable Gloves Used for?
Disposable gloves may be worn for the protection of the hands against a full range of hazardous chemicals, biological materials, and sharp items. They are regularly used in medical environments for the prevention of direct contact and cross-contamination between staff and patients.
Disposable gloves are also regularly purchased for protection when undertaking cleaning tasks. Likewise, they are worn for the prevention of contamination when carrying out food handling duties. Additional industrial applications include agriculture, marine environments, baby care, beauty and manufacturing. Disposable gloves are commonly subject to rigorous testing and are supplied with the assurance of having met key safety and quality standards.
Thick gloves are recommended for protection against potentially harmful chemicals and mechanical damage. However, you should be aware that they will have a poorer grip and may not offer the same level of flexibility as other types of gloves.
Which Disposable Gloves Should I Be Using?
There is a variety of factors that should be considered in the choice of disposable gloves, as highlighted in the following table:


| | | | |
| --- | --- | --- | --- |
| Material | Latex | Nitrile | Vinyl |
| Tensile Strength | Yes | Yes | Not recommended |
| Flexibility & Dexterity | Yes | Partial | Partial |
| Contamination Risk | Yes | Yes | Partial |
| Durability | Yes | Yes | Not recommended |
| Puncture Resistant | Partial | Yes | Partial |
| Comfort | Yes | Partial | Yes |
| Food Safe | Yes | Yes | Yes |
| Sensitivity | Yes | Partial | Partial |
| Oil & Chemical Resistant | Partial | Yes | Partial |
| Biodegradable | Partial | Not recommended | Not recommended |
| Protein Content | Not recommended | Yes | Yes |
| Affordability | Partial | Partial | Yes |
Disposable Gloves for Mechanics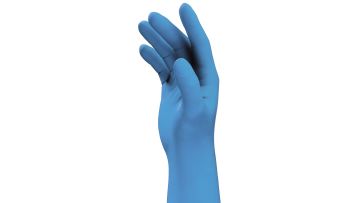 There is a wide range of disposable gloves ideally suited to mechanical engineers. Nitrile gloves are generally recommended for mechanical use due to their exceptional levels of chemical resistance and strength.

However, latex gloves may be preferred as they offer the flexibility necessary for the use of hand tools and machinery. Neoprene gloves may also be worn for the assurance of protection against hazardous chemicals.
View Range
Disposable Gloves for Electronics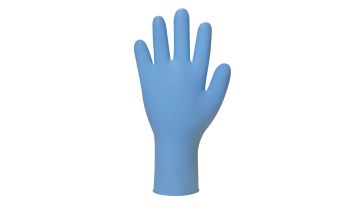 The range of disposable gloves includes those which have been designed for inspection and adjustment of electrical items without any negative impact on performance. Some of these gloves have anti-static properties, while others offer good levels of insulation and protection against electric shocks.

Nitrile gloves are recommended for high levels of flexibility and precision. However, there is also the option of ESD safety gloves, purpose-made for electronic assembly work, where there are issues associated with direct skin contact. These comfortable anti-static gloves are commonly made from dissipative polyester and have a super-grip surface across the fingers and palm. They are also well-suited to clean room applications.



View Range
Disposable Gloves for Cooking and Food Preparation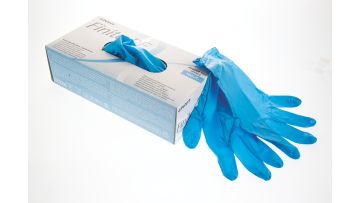 Disposable gloves are commonly worn by professional food handlers to minimise the spread of germs and the risk of contamination. It is recommended that you use these gloves exclusively and then discard them upon the completion of particular food-handling duties. You can buy gloves featuring antimicrobial agents to effectively limit the growth of microorganisms.

Polyethylene gloves are recommended for regular food-handling duties. However, you may opt for vinyl gloves due to their durability and high sensitivity. Alternatively, you may choose environmentally-friendly latex gloves.



View Range
Disposable Gloves for Cleaning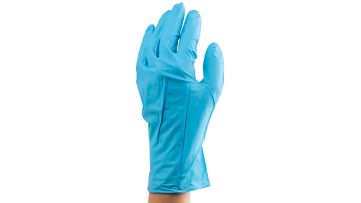 Latex gloves are the recommended choice for cleaning due to the material's strength and durability. These gloves also provide excellent levels of protection against chemicals and the risk of infection.

You can wear latex gloves when washing dishes to protect against the harmful effects of detergent and exposure to hot water. If you experience an allergic reaction upon exposure to latex, then you are advised to use PVC, neoprene, or nitrile gloves instead.
View Range
Disposable Gloves for Medical Use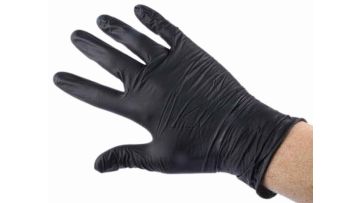 Disposable gloves are worn by medical staff and caregivers to prevent cross-contamination. They come in a range of materials including latex, nitrile, and polyvinyl.

Gloves for medical use fall under the category of either examination or surgical. Surgical gloves are designed for optimum fitting and offer high levels of sensitivity. Examination gloves can be bought in either sterile or non-sterile varieties. Given the increased risks, medical gloves have to be rigorously tested and are subject to strict industry guidelines.
Medical gloves are commonly worn in:
Hospitals
Laboratories
Clean rooms
Dental practices
View Range
How to Measure Glove Size
The process of how to measure glove size requires the use of a flexible tape measure. In order to correctly identify your glove size, you will need to measure the circumference of your dominant hand, across the palm and directly behind the knuckles. The thumb shouldn't be included in the measurement. The number of inches recorded in the measurement should correspond with the size of the glove. As an example, a size 8 glove should be selected on taking an 8-inch measurement.
Disposable Glove Degradation
You must keep disposable gloves in the appropriate storage conditions to limit any degradation. You should be aware that dust, sunlight, moisture, and extreme conditions may all have a bearing on the condition of stored gloves. Therefore, you should keep them in a dry, well-ventilated area to effectively prevent deterioration.
Carry out a thorough inspection of the disposable gloves before use. Gloves that have been taken out of the protective packaging and stored inappropriately may be torn or contaminated. If damaged or ineffective gloves are worn, there will be a direct risk to the individual wearing them so gloves should be immediately replaced if any signs of degradation are identified.
Disposable Glove Breakthrough Time
Breakthrough time refers to the period between exposure of a hazardous chemical or substance to the glove and breakage of the surface resulting in direct skin contact. It is said to occur when the permeation rate is at a level of 0.1mg/m2/second. Glove protection will be considered inadequate at this point.
Factors that have a bearing on the breakthrough time include:
Glove thickness

Chemical concentration

Level of chemical exposure

Amount of time that elapses in contact with the glove

The likelihood of abrasion or puncturing
Disposable Glove Permeation Rate
The permeation rate of a disposable glove is measured in terms of milligrams per square metre per second (mg/m2/sec). It is specific to the steady-state flow of the permeating chemical in relation to the glove elastomer. The permeation process involves initial contact with the substance, penetration through the glove surface, and spread across the inner glove lining. As mentioned above, glove thickness is one of the factors which has a direct bearing on the permeation rate.
Types of Disposable Gloves
There are distinct benefits and applications associated with the use of different types of gloves. You must choose disposable gloves that are best suited to your intended purposes. There should be some consideration of factors such as the fit, level of protection, and risk of allergic reactions.
Latex Disposable Gloves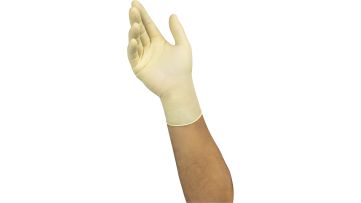 Natural latex gloves provide outstanding levels of performance and comfort. Unfortunately, contact with latex causes some people to experience allergic reactions, but despite this, they remain the preferred choice for many people within the industrial, medical, and food industries. Being biodegradable, latex disposable gloves are also an environmentally conscious choice.
View Range
Nitrile Disposable Gloves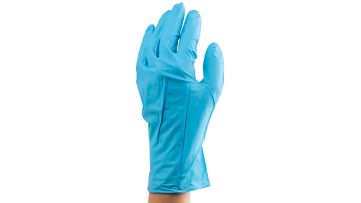 Nitrile disposable gloves are the recommended choice for use in oily environments where high levels of strength, puncture resistance, and durability are required. The material strength more than makes up for the lack of flexibility in comparison with latex gloves. They are also the ideal choice for people who suffer from latex allergies. Nitrile gloves are used across a range of mechanical and industrial applications.
View Range
Vinyl Disposable Gloves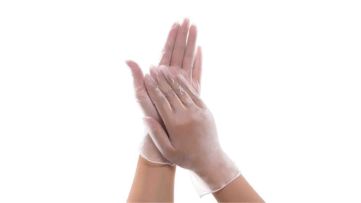 Gloves made from vinyl are the most affordable choice. However, vinyl isn't nearly as elastic as either latex or nitrile. Having said that, vinyl gloves are ideally suited to short tasks where the users are willing to sacrifice some degree of comfort. They offer a good level of protection against contamination but are not as suitable as other gloves for jobs involving exposure to dangerous or hazardous materials. Vinyl gloves are ideal for work in the food, beauty, and hair industries.
View Range
Polyethylene Disposable Gloves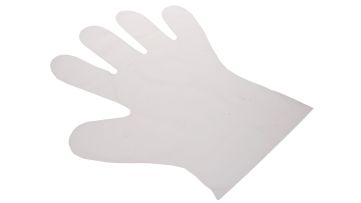 Highly durable polyethylene gloves are an excellent choice for the prevention of cross-contamination in food-handling processes. These gloves are typically provided in large sizes and come complete with gauntlets for covering the forearms. However, as they are lightweight, these gloves are not suitable for particularly high-risk applications.
Polymer Disposable Gloves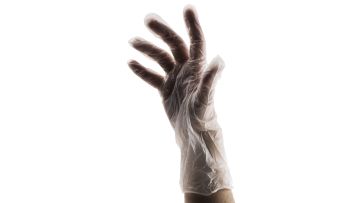 A polymer coating is sometimes applied to increase the smoothness of disposable gloves. The internal addition of polymer allows the gloves to be slipped on and off with relative ease. The polymer also acts as a secondary layer, protecting base materials such as latex.
View Range
Disposable Glove Standards
Safety standards should be taken into consideration when purchasing disposable gloves. It is expected that you will refer to the EU and US standards specific to the safety of gloves across a variety of applications. You should be aware that the AQL (Acceptable Quality Level) refers to an internationally recognised standard for measurement of pinhole defects across different types of disposable gloves. The lower the AQL level, the greater the level of protection. You can expect to pay more for gloves with low AQL levels due to the corresponding quality and manufacturing costs. The majority of disposable gloves in the UK and Europe have AQL numbers of 1.5 and 4.0. However, you can purchase gloves with AQL levels as low as 0.65 for tasks of significant risk.
The key European standards are as follows:
EN420 – General requirements

EN455 – Medical use

EN1149 – Electrostatic properties

EN374 – Chemical and microorganism

93/42/EEC – Medical devices directives
FAQs
What is a Beaded Cuff?
Some varieties of disposable gloves are produced with beaded cuffs for added durability and comfort. These cuffs ensure enhanced forearm protection and strength in the process of glove donning.
What Does 'Cotton Flocklined' Mean?
Gloves that have a cotton-based flock lining are particularly easy to put on and remove. The cotton lining also increases the thickness of the gloves, protecting against punctures and abrasions. They are considered to be a particularly good choice for keeping the hands comfortable and warm.
Why are Some Gloves Chlorinated?
Chlorine is typically applied during the production of heavy-duty disposable gloves. The added chlorine has the effect of hardening and strengthening the glove material - ideal for high-risk applications.
What are the Benefits of Nitrile Gloves?
Nitrile gloves are highly resistant to ripping and tearing. They are far more durable than latex and PVC disposable gloves.
What is the Powder in Gloves?
A variety of dusting and donning powders, mould-release compounds, and manufacturing debris can be applied to disposable gloves. This application of powder allows for separation of the gloves during the manufacturing process. Chlorine may also be used to reduce the level of stickiness, therefore avoiding the need to add dusting powder.